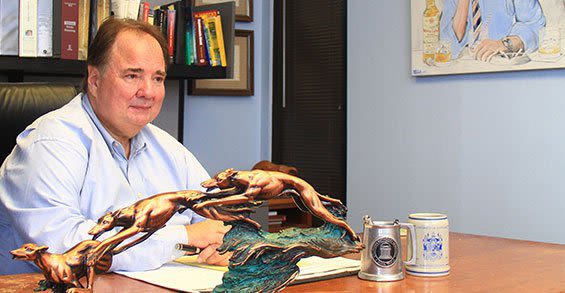 Proud to serve as a dedicated legal professional in the realms of Texas business, commercial real estate, and insurance law, I have had the privilege of assisting individuals, entrepreneurs, and Fortune 100 corporations through their legal challenges. With over three decades of experience, I have worked diligently daily to provide quality services, caring about my clients and their futures through each process.
When a client shares the intricacies of their business, including the roles of owners and investors, I listen closely. This enables me to craft tailored legal solutions that lead to success for my clients.
Legal Background & Experience
My legal career has spanned over 30 years, making me a seasoned professional in the legal field. Throughout my journey, I have worked with clients from diverse backgrounds and industries, gaining valuable insights into the complexities of business disputes, commercial real estate transactions, and insurance matters.
My experience as a chief trial attorney for a major commercial insurer allowed me to master the intricacies of insurance policies and coverage. I learned to navigate the legal landscape surrounding insurance disputes and develop effective strategies to represent insured parties in court. This experience instilled in me the importance of understanding various businesses quickly—a skill that continues to serve me well in my current position.
I want to provide as much certainty as possible when you're facing an uncertain situation.
My Current Practice
I am dedicated to helping my clients establish robust business structures that not only address their immediate needs but also provide a solid foundation for future growth. Whether it's drafting contracts, resolving disputes, or advising on business transactions, I am committed to providing comprehensive legal support.
In addition to my work in the realm of business law, I also specialize in commercial real estate matters. I assist clients in navigating complex real estate transactions so that their interests are protected every step of the way. My knowledge of real estate law allows me to provide invaluable guidance in negotiations, acquisitions, and leasing agreements.
Furthermore, I represent policyholders in commercial insurance disputes. My background in insurance law equips me with the skills and insights needed to advocate for clients who are facing challenges related to insurance coverage and claims. I am committed to securing the compensation and protection that policyholders deserve.
Three Guiding Principles
My approach to legal representation is built on three core principles:
No Surprises: When I offer a fixed fee, I mean it. You can trust that there won't be unexpected charges, and prices for phone or email consultations won't escalate.
Speedy Response: Addressing concerns promptly is my commitment. I believe in staying accessible and responsive to your needs as they arise.
Plain Language: I avoid the convoluted jargon often associated with legal discussions. I ensure you have all the facts in clear and straightforward terms.
Ability + Experience = Success
Throughout my career, I've come to firmly believe in the formula "Ability + Experience = Success." While every business owner possesses their unique skills and experiences, I offer over three decades of legal expertise, coupled with a proven ability to resolve commercial matters without resorting to the courtroom.
Personal Background and Interests
I was born in Maryland, but my formative years were divided between Maryland and Texas. This exposure to different regions has enriched my worldview and allows me to connect with clients from diverse backgrounds.
My journey into the legal profession was sparked by a belief that someone was more likely to be a victim of a Mont Blanc pen than a Magnum firearm—in other words, I understood the potential harm caused by legal injustices and felt a strong conviction to pursue a career where I could use a strong education to make a positive impact.
After attending Southern Methodist University for business school, I continued my education at SMU Law. This choice of education has shaped my career and provided me with a strong foundation in business and legal studies, guiding me to trying cases involving insurance policies and gaining an ability to draft effective, concise, and readable legal documents. I understand the importance of clarity and precision in legal matters.
I am proud to be recognized as a Charter Member of the College of the State Bar of Texas. This honor reflects my commitment to upholding the highest standards of legal professionalism.
Your Unique Partner in Law
In the world of law, I understand that each client is unique, and every transaction is different. As your attorney, I will listen attentively to your concerns, developing personalized plans to accomplish your goals. When you choose me, you're choosing a seasoned legal partner dedicated to pursuing your success in the ever-evolving legal landscape.
With me on your side, you can face uncertainty with confidence, knowing that a dedicated attorney with over three decades of experience is working tirelessly to protect and grow your legacy. Whether you're a business owner seeking legal guidance or an individual facing an insurance dispute, I am here to provide you knowledge and support as you work to achieve your objectives. Don't hesitate to reach out to me at Laird Morgan, Lawyer to discuss your legal needs.
Bar Admissions
State Bar of Texas

Federal District Court for the Northern and Eastern Districts of Texas

The United State Court of Appeals for the 5th Circuit

United States Court of Federal Claims
Education
Licensed by the Texas Supreme Court: 1977

Southern Methodist University, Dallas, TX; B.B.A: 1973; J.D.: 1977
Professional Association & Membership
State Bar of Texas

College of the State Bar of Texas

Dallas Bar Association