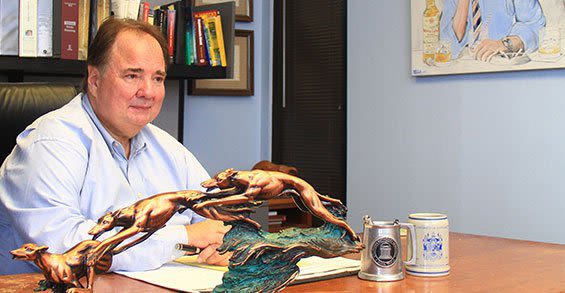 Throughout my three decades of practice, it has been a privilege to guide and counsel individuals through times of crisis, to help start new businesses, and to serve Fortune 100 corporations. I have also enjoyed the opportunity to teach business and insurance law.
A significant part of my career involved serving as a chief trial attorney for one of the world's largest commercial insurers. In this role, I had to understand the insurance contract and how coverage would apply to a particular situation. To represent the insureds in trial, I had to learn a great deal about a variety of businesses in a very short time. From this experience, I learned that the key to learning about any business is to listen intently to those involved.
To this day, when I listen to a client explain how a business operates and the role of the owner and investors, it enables me to respond with a solution that leads to success for my client.
Now, my practice focuses on representing owner-managed companies by establishing a business structure that will serve the business now and in the future. I also represent clients in commercial real estate matters, as well as policyholders in commercial insurance disputes.
I want to provide as much certainty as possible when you're facing an uncertain situation.
Business — like life itself — is always going to have its uncertainties. And even though none of us can predict the future, we can take steps to ensure that no matter what happens, we'll always have the tools we need to get back on track.
This is the approach I take in law. When clients come to me, I know they're concerned about their business. It is my mission to not only protect and grow their legacy but also to put their minds at ease during an already stressful time. That's why I live by these three simple guidelines:
No Surprises
When I say I offer a fixed fee, I mean it. I'll never spring some unheard-of charge on you, and I won't escalate my prices for phone or email consultations.
Speedy Response
Answering messages is like a compulsion to me. I'm constantly checking my phone and email for updates because I believe in addressing concerns as they arise.
Plain Language
One of my biggest pet peeves is lawyers who talk like lawyers. I'll make sure you have all the facts, but I'm not going to hide them behind a wall of convoluted jargon.
Ability + Experience = Success
As a student at Southern Methodist University, I may have believed that experience was key to success, but I didn't truly understand that concept until I had a few years of my own experience under my belt. Now, over thirty years later, I've never believed in my motto more: "Ability + Experience = Success."
When it comes to running your business, you already have your own particular skill set and experience. What I offer is over 30 years of legal experience, partnered with a proven ability to settle commercial matters outside the courtroom.
Bar Admissions
State Bar of Texas

Federal District Court for the Northern and Eastern Districts of Texas

The United State Court of Appeals for the 5th Circuit

United States Court of Federal Claims
Education
Licensed by the Texas Supreme Court: 1977

Southern Methodist University, Dallas, TX; B.B.A: 1973; J.D.: 1977
Professional Association & Membership
State Bar of Texas

College of the State Bar of Texas

Dallas Bar Association